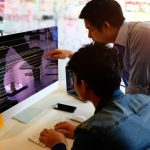 Website Hammerulo Data Corporation
Web and Mobile Developer – Laravel PHP | Angular | React Background
Job Description
Web and Mobile Developer – Laravel PHP | Angular | React Experience
Work From Home
Join an established development team using modern technologies and a disciplined agile development process for both mobile and web platforms.
Our project team is searching for an exceptional and enthusiastic individual to work the U.S. day shift who is proficient and experienced in PHP/Laravel, AngularJS, AND React Native development.
The current application tech stack is listed below. All interested candidates should be comfortable using these technologies with minimal training.
Backend – Laravel PHP Framework
Web App – AngularJS
Mobile App – React Native
Essential Requirements:
Must be proficient in PHP/Laravel, AngularJS, React Native (iOS & Android), MySQL, CSS, HTML, Javascript, AJAX
At least 3 years of experience working in a highly-transactional production environment
Angular Front-End Integration and Deployment
Must have experience with AWS/EC2/RDS/Ubuntu
App Store Connect/Play Store Connect (App Deployments)
Xcode/Android Studio
Must be proficient in Mobile App Development
Must have experience with Stripe and/or similar eCommerce Payment Integration
Additional Preferred Requirements:
Stripe and Pusher Experience
Google Firebase
Google Cloud Platform
Knowledge of JIRA, Bitbucket, or equivalent Git repository management platform
Required Attributes:
Self-motivated and self-managing, with strong time management and organizational skills
Ability to thrive in a fully remote organization
Positive and solution-oriented mindset
Strong analytical and problem-solving skills
High aptitude for learning new tools and technologies
What's in store for you:
You'll be working and learning from some of the best in the industry, working with exciting international clients, and joining a dynamic group of people with a lively team culture.
Full-time position with an established BPO company
Industry-verified, competitive compensation and benefits package
Night Differential
HMO Medical Plan
SL & VL Credits with SL Conversion
Company-Issued Equipment/Laptop
Permanent Work From Home setup
Schedule: U.S. EST Day Shift (Manila Night Shift)
Availability: As soon as possible.
If this sounds like you, and you're ready to start immediately to join our team, then apply now!
Additional Information
Career Level
1-4 Years Experienced Employee
Qualification
Vocational Diploma/Short Course Certificate, Bachelor's/College Degree
Years of Experience
3 years