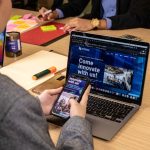 Website Hammerulo Data Corporation
Mid-Level Accountant - Work from Home
Accountant
Permanent Work From Home!
Position: Mid-Level Accountant
Available to start as soon as possible!
Are you ready to join one of the fastest-growing established IT Services companies in the Philippines?
Hammerulo Data Corporation is looking for an experienced accountant to ensure the integrity of accounting information by researching account issues for compliance and by establishing quality control over financial transactions and financial reporting.
RESPONSIBILITIES / DUTIES:
1) Prepare, examine, and analyze accounting records, financial statements, and other financial reports to assess accuracy, completeness, and conformance to reporting and procedural standards.
2) Compute taxes owed and prepare tax returns, ensuring compliance with payment, reporting, and other tax requirements.
3) Analyze business operations, trends, costs, revenues, financial commitments, and obligations, to project future revenues and expenses or to provide advice.
4) Report to management regarding the finances of the establishment.
5) Establish tables of accounts, and assign entries to proper accounts.
6) Develop, maintain, and analyze budgets, preparing periodic reports that compare budgeted costs to actual costs
MINIMUM QUALIFICATIONS:
Must have an Accounting degree and at least 3 years of experience.
CPA is a plus.
Thorough knowledge of basic accounting procedures and principles, and Corporate Finance.
Excellent accounting software user, background with Quickbooks is a must.
Good Phone Communications Skills, a team player.
Accuracy and attention to detail.
Good aptitude with good research skills.
Deadline-oriented.
Job highlights:
Work from Home but preferably residing in Taguig or Makati or nearby Cities or provinces.
Full-time position
Direct Hire
Permanent Work From Home
Industry-verified, competitive compensation and benefits package
HMO Medical Plan Maxicare Gold 200K MBL
SL & VL Credits Conversion to Cash
Company-Issued Equipment/Laptop
Signing Bonus
If this sounds like you, then apply now for this fantastic work-from-home opportunity and join one of the Philippines' leading IT teams.